Josh's 2015 STI 800hp Build - Stage 17
Josh brought us his very low mileage 2015 Subaru STI back in January of 2016 for basic bolt ons.  We installed our Stage 3 package which you can read about 
HERE
That setup made 400hp on 93 octane and 436 on E85 using the Johnson Tuning flex fuel kit.  This was accomplished on the stock engine.  Our tuner Corbin has tuned many of these setups on the stock engine and is able to keep them reliable and fun!  Josh drove this setup for the whole summer traveling from show to show without any issues. Josh came to us in the fall looking for more power, specifically he wanted to break the 800hp barrier.  He also wanted some custom parts to keep his build unique.  We came up with a plan and started ordering parts. IAG Performance never lets us down, so we spoke to them about our goals and settled on a Stage 3 Tuff engine package with the following upgrades.
Manley Turbo Tuff Rods and Pistons
Stage 5 CNC Heads
Kelford 220C camshafts
ACL high volume oil pump
ARP 2000 1/2" head studs
Manley valves
Here you can see the beautiful port job IAG did for us, these heads flow amazingly well!
With the goal of 800+ horse power we needed a good clutch.  We turned to our friends over at P&L Motorsports for their Competition Clutch Triple disc setup.  This clutch is an amazing piece that can hold the power, shift fast, and still be driven on the street.
For the fuel system we chose the Radium dual fuel pump hanger and two Walbro 450lph pumps.  We also are using Injector Dynamics ID2000 fuel injectors, IAG billet fuel rails, Aeromotive AFPR, Fuel Lab 6 micron filter and custom lines.
John is our master tech, he is meticulous and spends extra time on wiring and plumbing systems.  Here you can see the wiring for the fuel pumps.  John ran heavy gauge wire from the battery with relays for proper fuel pump voltage.  This is important on any setup but especially important when pushing a fuel system this hard on ethanol fuel.
Working our way from the back of the car to the front you can see how all the fuel lines route for both feed and return.  The Fuel Lab 6 micron fuel filter mounts near the front of the car.  The fuel lines and the filter are both secured with multiple adelle clamps and routed so we can hide them later with the factory panels.
In an effort to keep as much clutter out of the engine bay as possible John chose to mount the Johnson Tuning flex fuel sensor down by the transmission.
Now that all the fuel lines, the filter, the wiring and the flex fuel sensor are in place we can reinstall the factory panels.
If you have ever removed the intake manifold on a boxer engine you know how crowded it is.  The goal here was to route all the fuel system lines, fittings, and the regulator so that the Process West intake would hide them.  John did an incredible job routing all this along with the AOS lines so that it looks clean once installed.  Here is some of the madness going on under the intake manifold.
You can see the AOS lines are now installed as well as the custom FatFab rotated turbo kit.  Yes that is a Titanium hood dumped wastegate!
This custom FatFab rotated turbo kit uses our
EJ25 Billet Header
The billet collector colors up beautifully after a few dyno sessions!
We chose a Precision Turbo 6466 single scroll V-band housing turbo for this build.
The turbo uses a Ported S Cover which is a 4" inlet and 2.5" outlet
This turbo features Precision's Gen 2 CEA Billet compressor wheel, its spools fast for its size and makes a ton of power!  The physical size of this turbo is also small which is great when fitting it inside a tight engine bay.
Josh's STI uses our standard
FatFab Intercooler Kit
, the pipes have been modified to work with the rotated kit.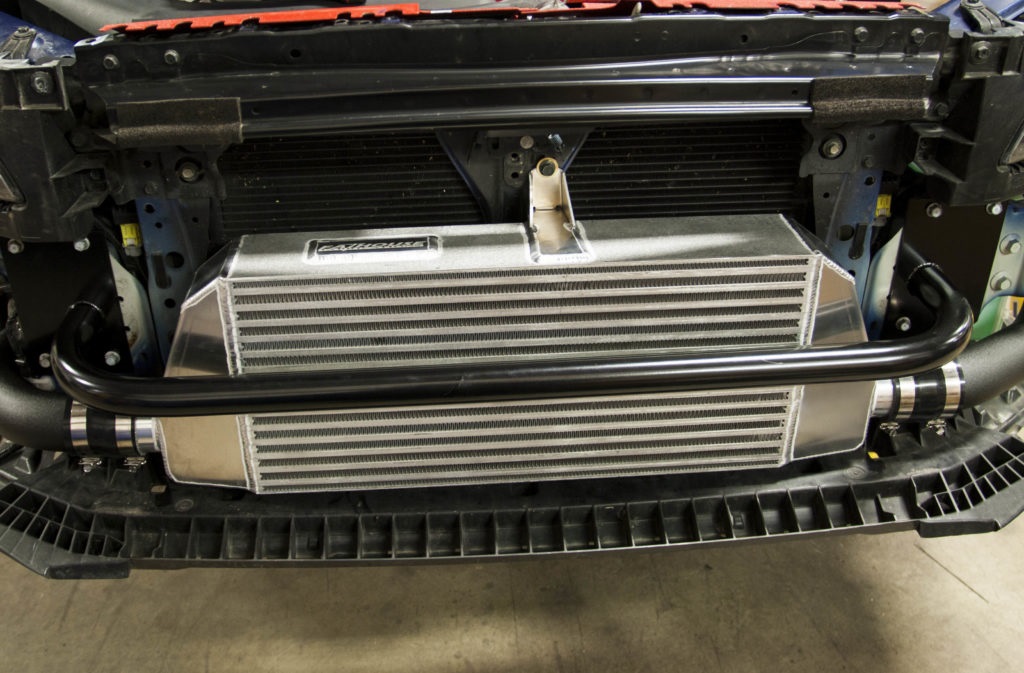 We made a titanium 4" intake pipe to go along with the titanium wastegate dump.  The intercooler pipes and Process West intake manifold were all coated in liquid candy bronze.  When all is said and done you get an engine bay that will grab your attention!
Our first dyno session was with 93 octane pumpgas.  Corbin was able to crack 600hp out of the setup at just 24psi! Once we finished pumpgas tuning it was time to pour in some E85.  At just 37psi we made 800hp!  This shows how efficient the setup is.  We swapped out the E85 for some Ignite Red racing fuel and were able to squeeze a few more hp out of her.
Josh is planning on a full schedule of shows this year.  If you want to check his car out in person we suggest hitting up one of the many shows he will be attending.  You can follow him on Instagram @theraflu