Tony's Twin Turbo GT350 Build
**EDIT**  Just made 1056hp on the stock motor, scroll to the bottom to watch the video
We previously did bolt ons including headers, catless xpipe, fuel injectors, JLT intake and E85 and the car made 525hp to the wheels, but that just wasnt enough...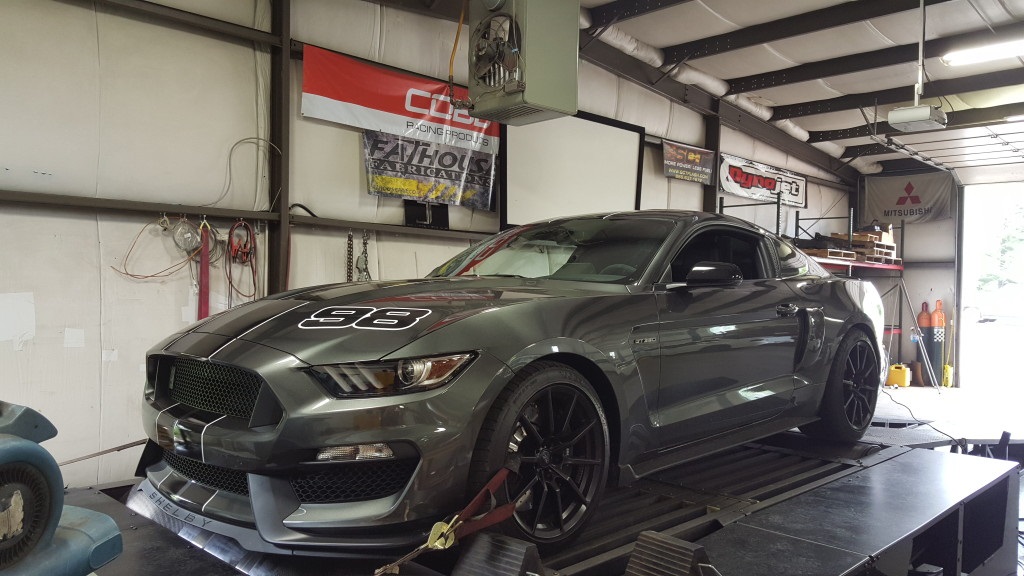 Tony brought us his car in March for an "oil change".  We began discussing the addition of boost with either a supercharger or turbo setup.   A proper turbo setup spools really fast on these engines, is less stressful on the crankshaft, and engine as a whole.  Turbos are just more efficient and we were able to sell him on turbocharging the Voodoo engine!
First, we removed the engine so we could get a good look at things.
We decided to build custom headers for the GT350 using heavy wall 321 stainless steel tubing.  This will provide better velocity and help spool the turbos faster.  The 321 stainless is stronger than the more common 304 stainless steel.
We obviously love turbos here and we take every opportunity to show it!
Once fabrication was completed we had the headers coated and installed the turbo kit on the engine before installing it back into the car for final assembly.
Once everything is installed it tucks up nicely inside the body of the car.  No ground clearance is sacrificed on this kit, no suspension was modified, and the factory sway bar is in tact.
Jeremy welds everything beautifully and all stainless welds are 100% back purged for strength and flow.
Tony's GT350 features one of our Race Catch Cans and polished piping.
MGW Shifters keeps us shifting the gears and we reprogrammed the navigation system to come up red to match the color scheme of the car.
The Brembos were upgraded to the Shelby GT350R model calipers and Forgline wheels with Michelin finish off the outside.
Add all of this up and you get...
Photo Cred: Trevor with 
TF Images
Model: 
Taylor Flaherty
Using HP Tuners and the factory PCM we set the car up on Flex Fuel so Tony can run both 93 oct and E85.  The boost controller has 3 settings that allow for wastegate, 7psi and 8psi.  Tony can run E85 on all of these settings while setting 1 and 2 are reserved for pumpgas only.  With only 8psi of boost we were able to cross the 800hp threshold on E85.  The Voodoo engine is one of the most efficient we have seen, the heads flow really well, and the engine LOVES boost!
After we finished the tune we had a little fun with the old tires!